When You Wish Upon a Mouse….
When Marjorie Hunter was born, Mickey Mouse was debuting on the small screen with the Mickey Mouse Club. By then, Mickey was already 32 years old but, along with his sweetheart, Minnie, continued to steal the hearts of children of all ages – especially Marjorie's!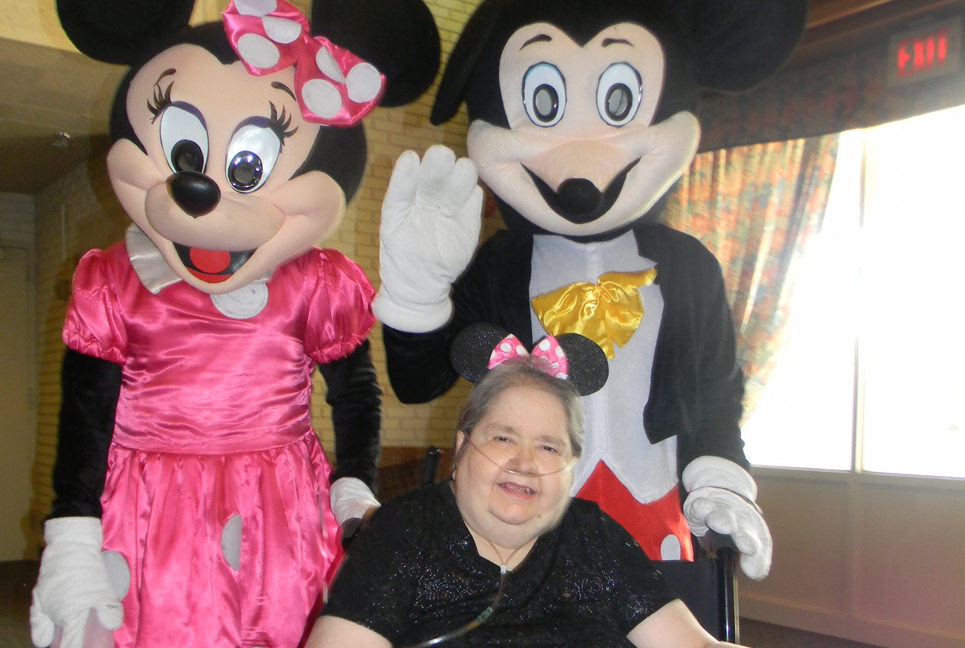 Some days only this world-famous couple could coax a smile or laugh out of Marjorie, struggling with lifelong disabilities. Smiles and giggles escaped her whenever Marjorie watched the mice characters. She continued to be smitten by Mickey and his quirky falsetto, silly antics and sweet devotion to Minnie as she grew into an adult. Over the years, Marjorie amassed an entire attic's worth of Mickey and Minnie Mouse collectibles suitable for the Smithsonian museum!
Certainly by age 65, it was time. In fact, it was long overdue. Marjorie needed to meet Mr. and Mrs. Mouse in person – it was her wish, upon a star.
Crossroads made it happen – the team gathered Marjorie's family, sister, sister-in-law, nieces and nephews for the biggest M O U S E party ever! The social hall was bedecked and bedazzled with all things Mickey: table wear, balloons, decorations, custom flower arrangements with polka dot bows, and streamers. And endless servings of cheesy pizza, soft drinks, and chocolate ice cream (Marjorie's favorite!) kept all the 'mouseketeers' nourished so they could dance under a spinning disco ball.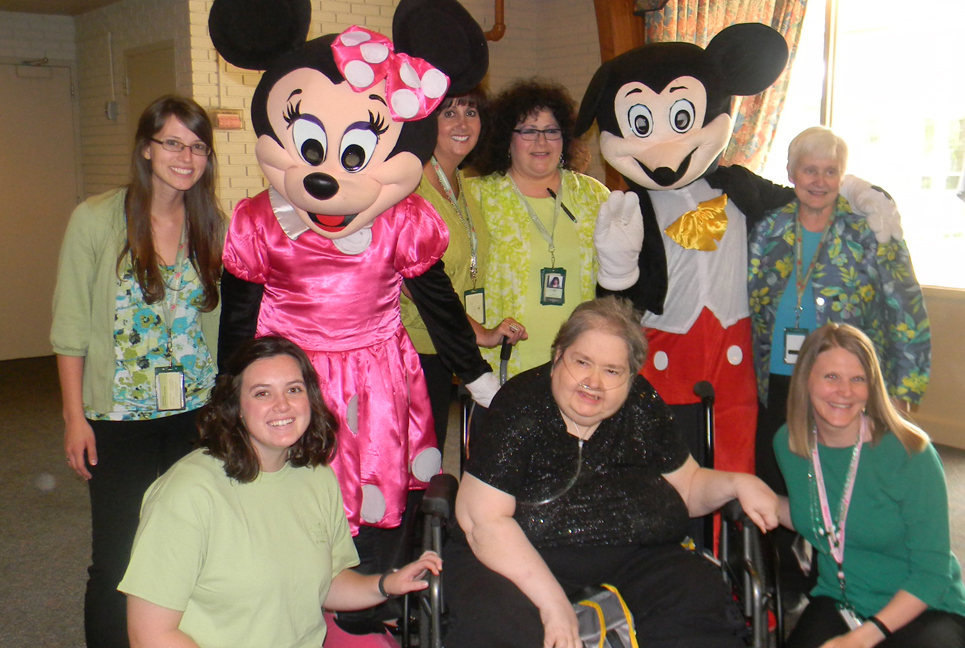 At the sight of Mickey and Minnie directly in front of her with their stuffed, outstretched arms…well, it was nearly too much for Marjorie. She was speechless, the pupils of her eyes nearly popping out of her head. Not certain if she was dreaming, Marjorie hesitated at first but then burst into the toothiest, childlike grin and dove in for a hug.
Crossroads gave her a pair of Mouse ears that Marjorie wore the duration of the party…and the day…and the night….and…..well, you get the picture.
The DJ kept the party hopping for over two hours with playful numbers like the Chicken Dance. He stirred up an action-packed game of Limbo, too. How low could Marjorie go? Very low…apparently, because she never wanted to stop.
Truth be told, Marjorie didn't want any of it to stop. Ever.