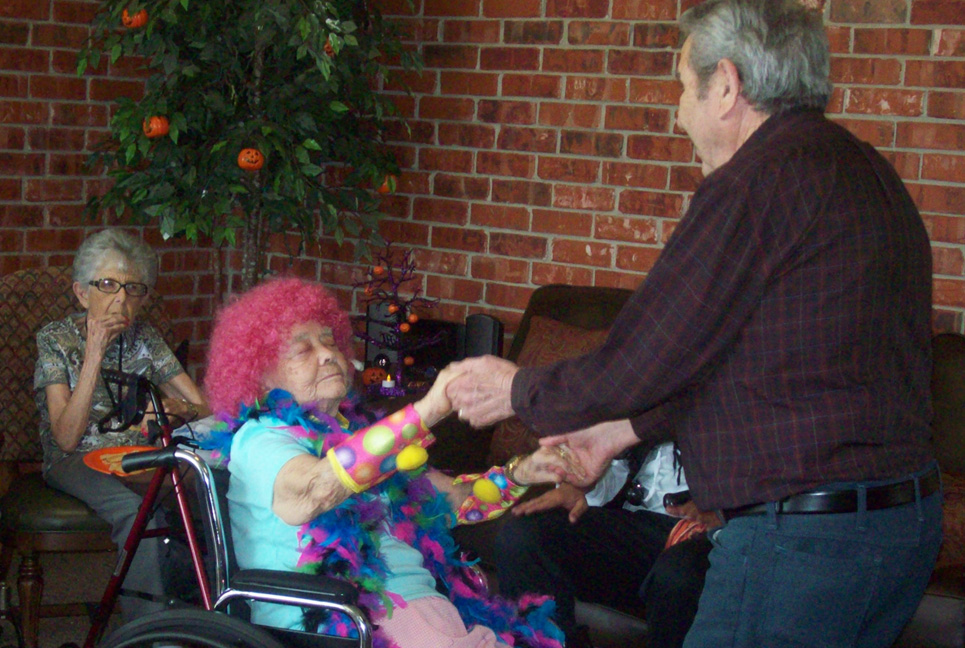 Gift of a Day Feature Story
October 2014
Jack 'o Lanterns Rekindle Childhood Memories
By the fall of 1934, many of Oklahoma's farms were going bankrupt as land turned from fertile soil to a parched dust bowl. Thankfully, Mary Werner's 70+ acre family farm was still afloat – after all, it was the site of the spookiest, most elaborate Halloween party in town! Mary, age 10, was busting at the seams with excitement and talked nonstop about every detail as she rode her horse through the haze of dust.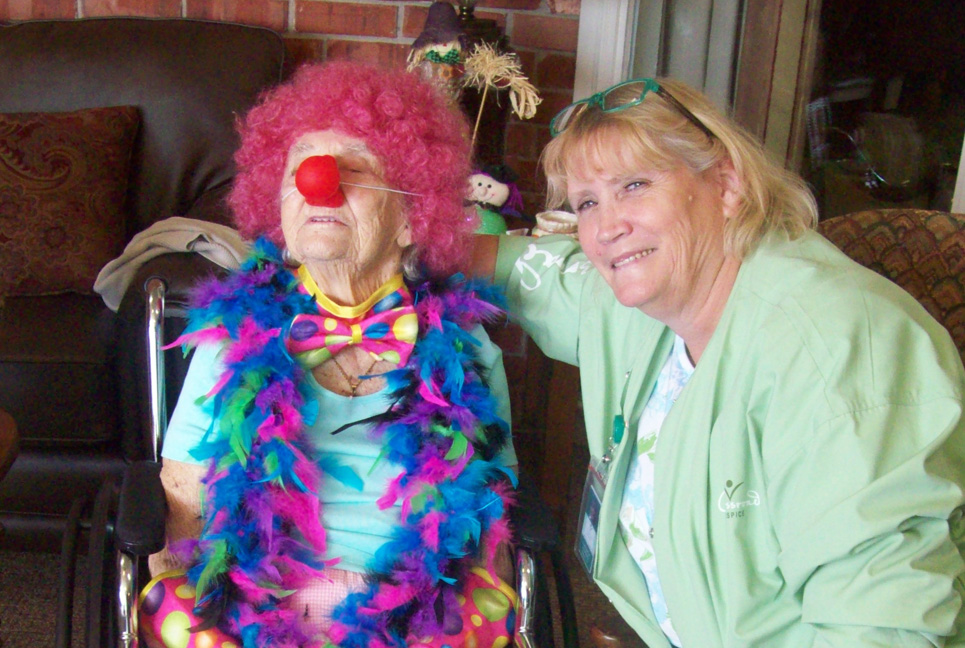 Every October 31st, Mary put on the same costume – a creepy, blood-red bridal gown – and bobbed for apples, danced, laughed, and nibbled on sweet treats with her friends and family in her grandfather's barn. Adorned with fake spider webs, laughing skeletons, jack 'o lanterns, hanging ghosts and a giant, frothy witch's cauldron, the Werner Family Farm was transformed into a real-life fright fest!
And, Mary loved every second.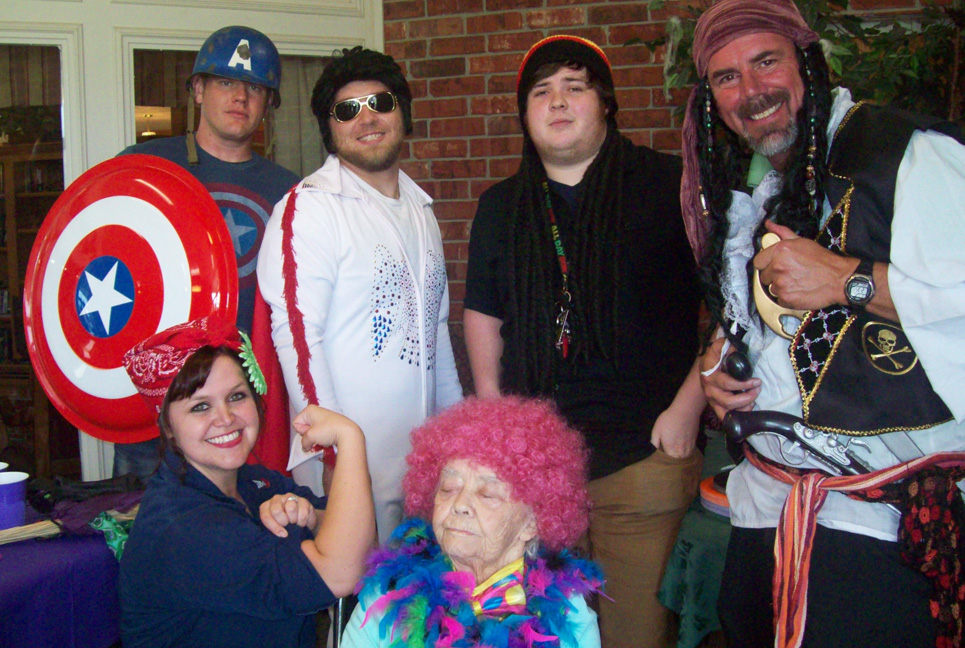 By age 90, however, Halloweens at the old family farm were a distant memory for Mary. Yet it was all she had left of that iconic family jewel until Crossroads took Mary on a journey back in time…re-creating her most beloved childhood experience – cauldron and all!
Mary, dressed in a bright clown costume, joined a gaggle of ghosts and goblins for a Monster Mash. Over 30 of her friends along with her grandson, his wife and their son enjoyed playing a variety of kid games like 'Pin the Tail on the Donkey,' although, Mary – the little vixen – said that she would rather be playing Spin the Bottle. (Wink, wink!)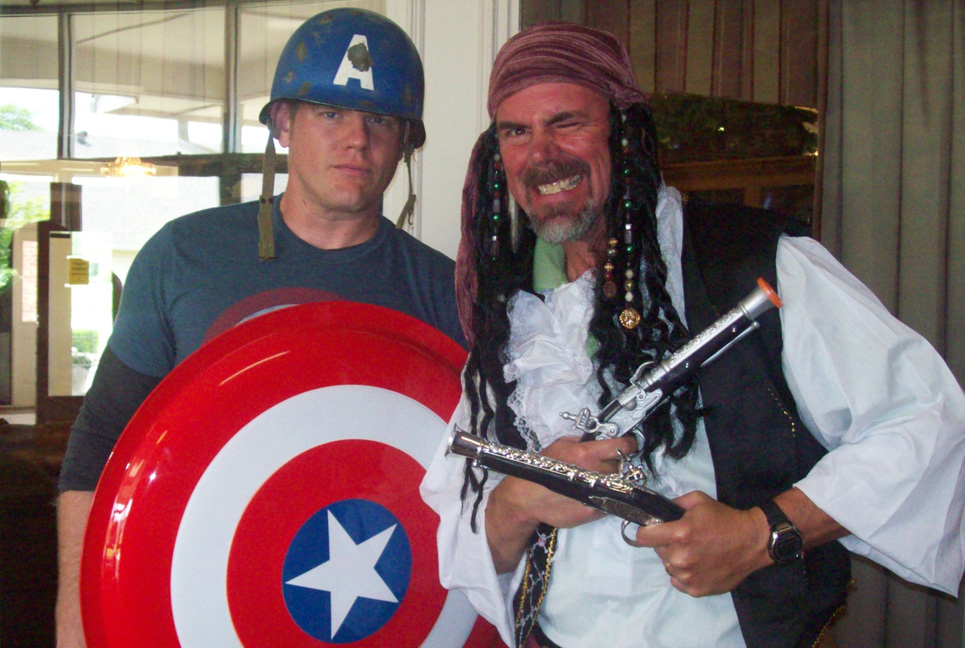 Mary jumped right into the action, too, dancing to the oldies especially hits from her favorite artist – Elvis Presley. She even got a chance to dance with the 'King,' flirting and honking her clown horn the whole time. Partygoers enjoyed a themed lunch including bottles of witches' brew. Mary partied like she was raising the dead that afternoon, carrying on like she was once again that exuberant 10 year-old girl.
Married to a military man, Mary had lived in 14 different countries over her lifetime but never outgrew the crisp fall days on the family farm in Oklahoma. Thanks to Crossroads, she returned to that special time and place she called home…a most precious gift without a price tag.