Gift of a Day
We develop unique plans of care that include a Gift of a Day, our special program inspired by author Jim Stovall's popular book "The Ultimate Gift." Since its inception, we have helped thousands of hospice patients experience the perfect day. That day is based on the question: "If you had one perfect day, what would it look like?" Our staff members, volunteers and local businesses work together to bring these perfect days to life for our hospice patients.
High-Roller Hits the Jackpot in Fun!
Ed Spence spent many a night playing the slots at the Horseshoe Casino. It was such a rush! Amidst the roars of victory and clouds of cigarette smoke, Sinatra tunes playing in the background and blinking lights in the foreground, Ed always double-downed.
Rarely did he hit it big; even so he loved every second of gambling. One day, at the end of a long evening pulling slot machine levers to no avail…it happened. Jackpot! Ed walked out the door that night with a pocketful of cash to the tune of $1,500.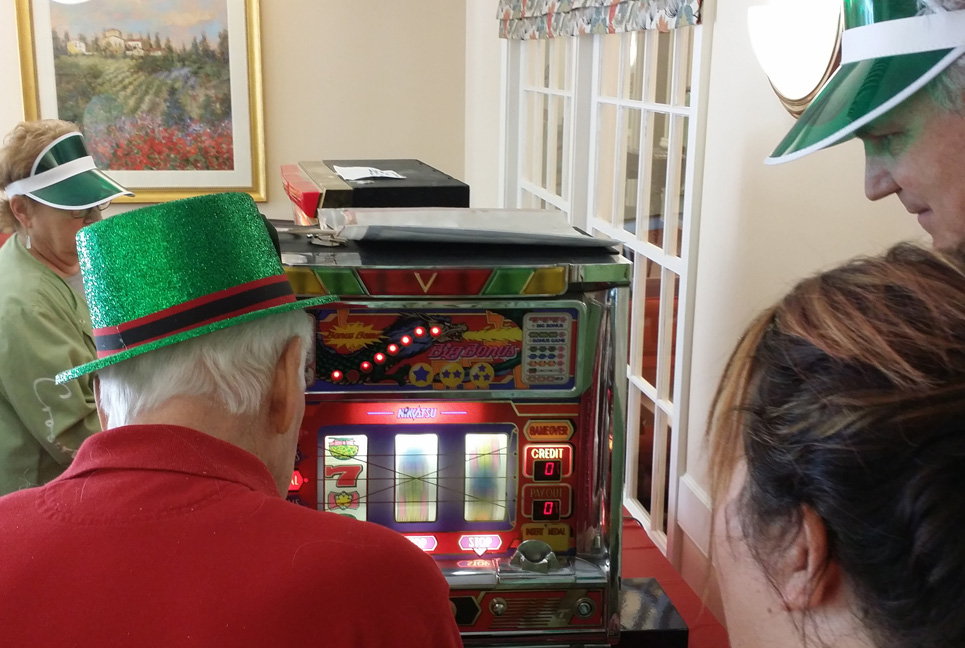 Ed can still recall that once-in-lifetime, last-second win, even at 82 and now struggling with dementia.
What better way to put a smile back on Ed's face than to recreate his big win?! So, that's exactly what Crossroads Hospice & Palliative Care did…and it was even better than the first time. The team turned Ed's assisted living facility into a bustling casino – Vegas-style.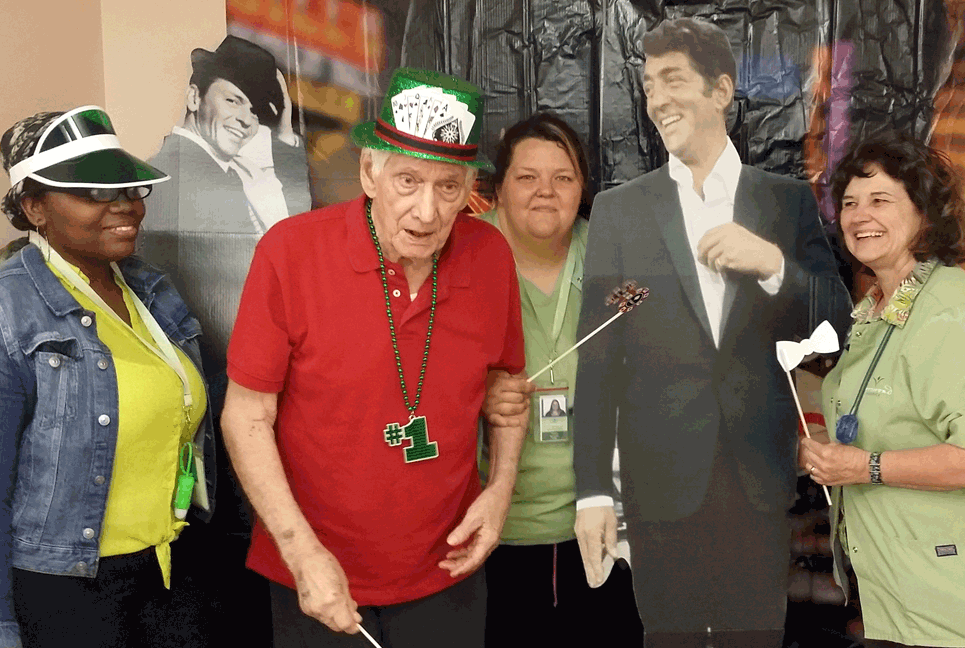 Ed could hardly believe his eyes.
Slot machines! Roulette wheels! An authentic Blackjack table! Nothing was spared – from snacks and punch to the classic tunes Ed loves that played all afternoon. Look to his right, Ed saw the Vegas strip. Turn to his left, and he found himself staring at Dean Martin himself. It was, indeed, his lucky day.
Ed rolled the dice, ante'd up, and played every single game along with friends and his beloved wife, son, and granddaughter – of course, this was his ace in the hole. Sporting a necklace with a pendant that read "winner," Ed's lucky streak continued all afternoon.