Gift of a Day
We develop unique plans of care that include a Gift of a Day, our special program inspired by author Jim Stovall's popular book "The Ultimate Gift." Since its inception, we have helped thousands of hospice patients experience the perfect day. That day is based on the question: "If you had one perfect day, what would it look like?" Our staff members, volunteers and local businesses work together to bring these perfect days to life for our hospice patients.
Nick The Brave's Book Signing: A Special Gift
Nicholas was just 10 years old when he was diagnosed with pineoblastoma, a rare form of cancer. Nicholas has experienced many highs and lows since his diagnosis and has inspired many people with his podcast, Nick the Brave. Most recently, Nicholas wrote a book, What I Wish I Knew Before Cancer: A Young Man's Memoir.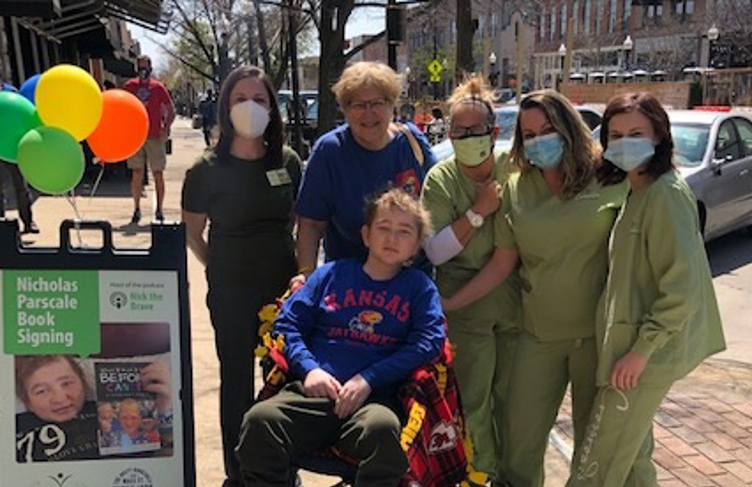 Inspired by Nicholas' incredible journey, Crossroads created a book signing event for him. The event was part of Crossroads' Gift of a Day program, an initiative that creates opportunities for patients receiving end-of-life care to experience their perfect day.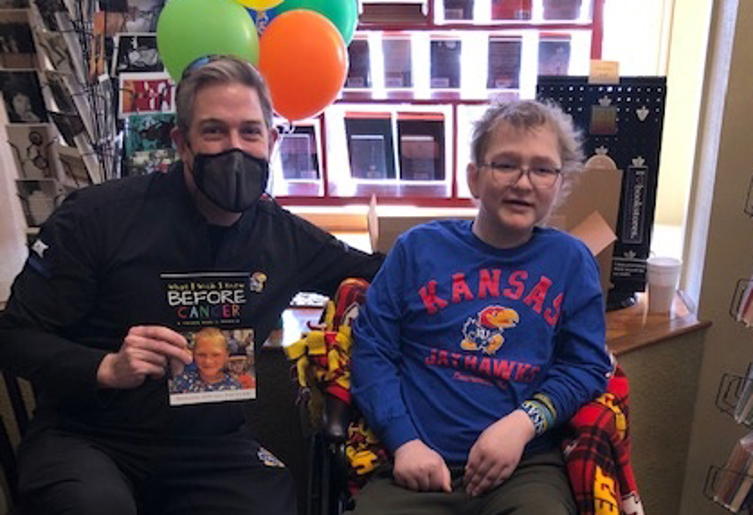 Nicholas and KU Jayhawks Basketball
More than 40 people attended the book signing, including eight members of Nicholas' care team at Crossroads. "We go big or go home," said Tiffany Reed, Crossroads Lenexa Executive Director.Some of the attendees didn't know Nicholas personally, Tiffany explained. They just knew about him through the close-knit Lawrence community or from listening to his podcast. "They came to cheer him on."
There was even a local celebrity who stopped by: voice of the University of Kansas Jayhawks basketball team, Brian Hanni. An interview with Jayhawks' basketball coach Bill Self was the subject for Nicholas' first podcast and the two have kept in touch. According to Tiffany, Coach Self has made Nicholas' memoir required reading for this year's basketball team.