Cheers to L-U-C-Y!
Three-year-old Lucy McCabe is like most toddler girls. She loves ice cream, Minnie Mouse and – most especially – cheerleading. Lucy earnestly tries to imitate her big sister, Molly, a veteran cheerleader at age six, and can't keep her eyes off of the pro cheerleaders on TV when her family devotedly watches the Philadelphia Eagles play each week.
But, unlike most toddlers, Lucy has been battling a rare form of pediatric cancer for the past two years. When the family was told that there were no more treatment options available, they turned to Crossroads Hospice & Palliative Care and, together, committed to making each day special for Lucy.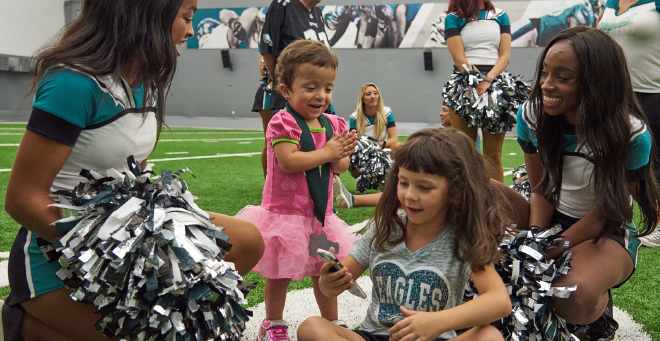 First up – a cheerleading experience like no other!
Lucy and her sister burst into the Philadelphia Eagles' NovaCare practice facility, where they were greeted by all 36 Eagles cheerleaders, standing in formation chanting their names as enthusiastically as they do for the Eagles' best players. Lucy and Molly were named honorary Eagles Cheerleaders and given their own uniforms. The squad then waved their green, white and black pom-poms and somersaulted to "Baby Shark," Lucy's favorite song. At that, Lucy took off running down the field!
As if it could get any better, the cheer coordinator then gave the McCabes a tour of the entire complex. They marveled at the Super Bowl trophy and tried on the ring, explored the state-of-the-art media room, ran through the gym and ended with freshly popped popcorn and ice cream in the cafeteria.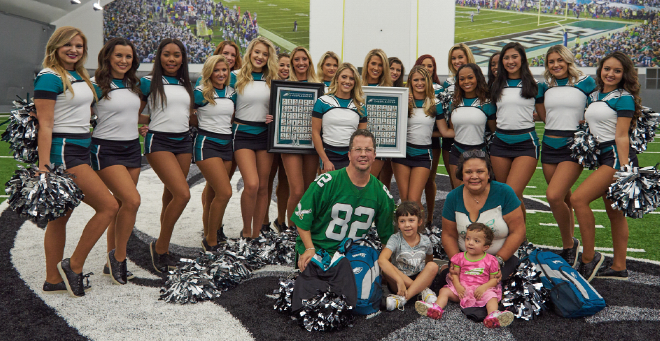 Before leaving, the squad gave Lucy and Molly giant gift bags stuffed with Eagles gear, framed autographed posters, medals and Eagles pom-poms. The girls reciprocated with equally giant hugs.
Give me an L-U-C-Y – what's that spell? On that day, it spelled love.