To London and Back! Crossroads' patient shares her story of courage.
At Crossroads, we always say we put the 'life' in end-of-life. And that is especially true for 57-year-old Oklahoma City native, Tammy Shelts.
Tammy, a retired dialysis nurse, joined Crossroads as a patient in July 2021 following a long and painful series of treatments to fight lung cancer that was diagnosed in October 2018. After making a difficult decision to discontinue treatments since it was not helping, she started palliative care and then hospice care. Many people have the misconception that the decision to enter hospice care means that a patient has very little time left. In Tammy's case, nothing could be farther from the truth.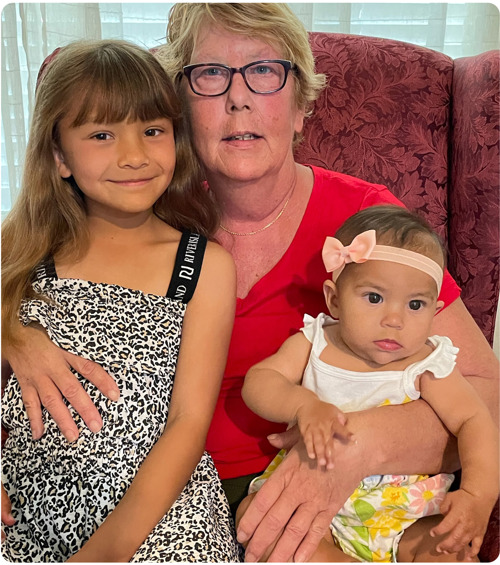 When Tammy and her husband of 34 years, Phillip, learned their daughter, Amber, would be expecting a new baby in February 2022, the news was bittersweet. Sweet because the baby would be fifth of the Shelts' grandchildren, who Tammy considers the biggest blessing of her life. Bitter because Amber, lives in London with her family, where they are based because her husband serves in the U.S. Air Force. Amber also served in the Air Force; she now still works overseas for the Department of Defense. Amber would be delivering her new baby in London, but given Tammy's illness, her mom would not be able to be there for the birth. However, December 2021 brought a glimmer of hope.
"For the holidays, my family surprised me and my husband with plane tickets to London, to arrive after the baby was born," said Tammy. "I was overjoyed at the thought, but I was afraid to get too excited. My biggest fear was that something would happen – some complication or obstacle that would keep me from being able to go."
But Tammy's Crossroads nurses, social worker and Phillip were determined to make the trip happen for her. In addition to tweaking her pain management plan and navigating her anxiety, everyone at Crossroads did everything they could to make the visit a reality. Tammy's illness was progressing, and it was imperative that she be prepared for any scenario—both medically and logistically.
Her Crossroads' team completed the necessary paperwork, contacted DME providers for items like an in-jet portable oxygen concentrator and a wheelchair and filled out documentation to get through TSA and customs with controlled substances. "When an upper respiratory infection a month before the trip threatened to prevent Tammy from going, we quickly started antibiotics and cleared her for travel," said her Crossroad nurse Walter Reyes. "We also prepared Phillip to administer medications and be conscious of any signs of decline, all the while being available via phone for the duration of the trip."
"I was scared and nervous, but I was so thankful, and I never would have been able to do this without everyone at Crossroads' support," said Tammy. "To be there soon after my granddaughter was born was so important to me. I didn't want to miss this opportunity," she said. "I never could have done it without my amazing nurses. They gave me the encouragement I needed and did everything they could do make it possible. While I was not there when my new grandchild was born, I got there soon after."
Like any good story, this one has a sequel. In July, Amber and her family came back to the U.S. to spend the month with Tammy, Phillip, their other daughter, Brittni, and her three children.
"None of us were sure I'd make it to this point, but I have and it's such a blessing to spend this extra time with my family," said Tammy. "People need to understand – hospice doesn't mean an end to life. It means the freedom to live the life you want in the time that you have."