Nothing Stops Centennial Birthday Celebration, Or the Man Himself
Bernard Ott, Massillon, Ohio
Nearly 90,000 people in the U.S will reach 100 in 2020, but very few will celebrate this milestone with loved ones, due to COVID-19 restrictions. That is, of course, unless you are under the loving attention of Crossroads Hospice & Palliative Care like Mr. Bernard Ott of Massillon, Ohio!
On June 3, Bernie suddenly heard loud sirens from firetrucks and honks from many dozens of cars cajoling him outside. "I'm wondering what's going on," he said in amused surprise, "and then I remembered that it was my birthday."
A long train of firetrucks and bedecked cars like vintage corvettes jam-packed with Bernie's loved ones holding home-made signs and balloon bouquets started to parade past the stunned centurion. He smiled ear to ear. The local newspaper, The Canton Repository, then interviewed Bernie about his life which added to him feeling special, even extraordinary. When the Massillon Mayor presented Bernie with a certificate proclaiming June 3 to be Bernard Ott Day…well, that knocked his socks off.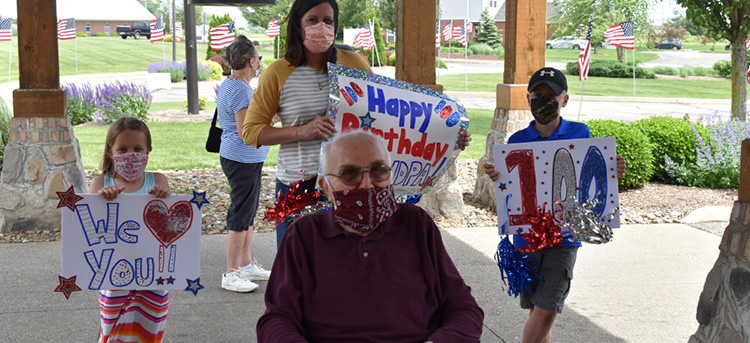 All of the hoopla and seeing his children, grandchildren, and great grandchildren calling out messages of love turned this tough veteran's heart as buttery and sweet as the cupcakes Crossroads brought to celebrate. Yet, something else gave him pause: the entryway of the Inn at University Village where Bernie lives was lined with American flags*, standing straight as soldiers, in his honor.   
In 1944, Bernie was dropped into the middle of a combat zone at age 23 to fight on the front lines and help liberate France during World War II. He was part of the first division of troops to reach and cross the Rhine River on the border between France and Germany. For his valor, he was awarded France's Knight of the Legion of Honor, created by Napoleon Bonaparte in 1802 to recognize excellent civil or military conduct rendered to the country.
A century of life bookended by bravery – fighting the Nazis just barely out of high school, and now staying strong in the world's battle against COVID-19 – and Bernie's spirit remains unbroken. As the honks started to fade into the distance, tears wetted Bernie's protective face covering which also masked the kind of soul-sustaining smile of someone who knows he is deeply loved.  
We wish you a very happy birthday, Bernie, and thank you for your service.