You May Kiss the Bride…and Your Grandmother!
Like most brides, Lisa Tolbert had big plans for her wedding – a custom-designed dress, opulent flower arrangements, a long, ribbon-bedecked aisle to walk down, and grandiose dance floor. Months in advance of the big day, everything was perfectly planned – the wedding in her dreams.
Almost. In Lisa's dreams, all of her loved ones – especially her beloved grandmother – would be sitting in the church pews to see her tie the knot with the love of her life. However, Myrtle Tolbert's health was declining rapidly so she would unable to make the trip north to New Hampshire where her granddaughter's wedding was all set for September. Both Lisa and Myrtle were heartbroken.
Understanding the significance of this once-in-a-lifetime occasion, Crossroads went to work.
A few calls later, it was done – if Myrtle couldn't go to the wedding, well, then the wedding would come to Myrtle! The loving bride-and-groom graciously agreed to move their wedding up four months and back home to Atlanta while Crossroads helped fund the change. Lisa realized that nothing could take the place of having her grandmother by her side on the most important day of her life.
In less than 1 month, the family home was totally transformed, a decadent wedding cake ordered, flowers arranged, and a close family friend dropped other plans to perform the ceremony. The mother-of-the-bride also sweated for days on the food, preparing an ethnic family favorite called paella for the crowd expected to share in the celebration.
Myrtle wore her finest dress but it was the love and gratitude that bubbled up from deep within that belied her true beauty. When Lisa finally took her first steps down the aisle, no one was more grateful to be there to see it than Myrtle. "Look at my beautiful granddaughter," said Myrtle over and over again, "look at what she did for me. I love her so much and wish her every happiness."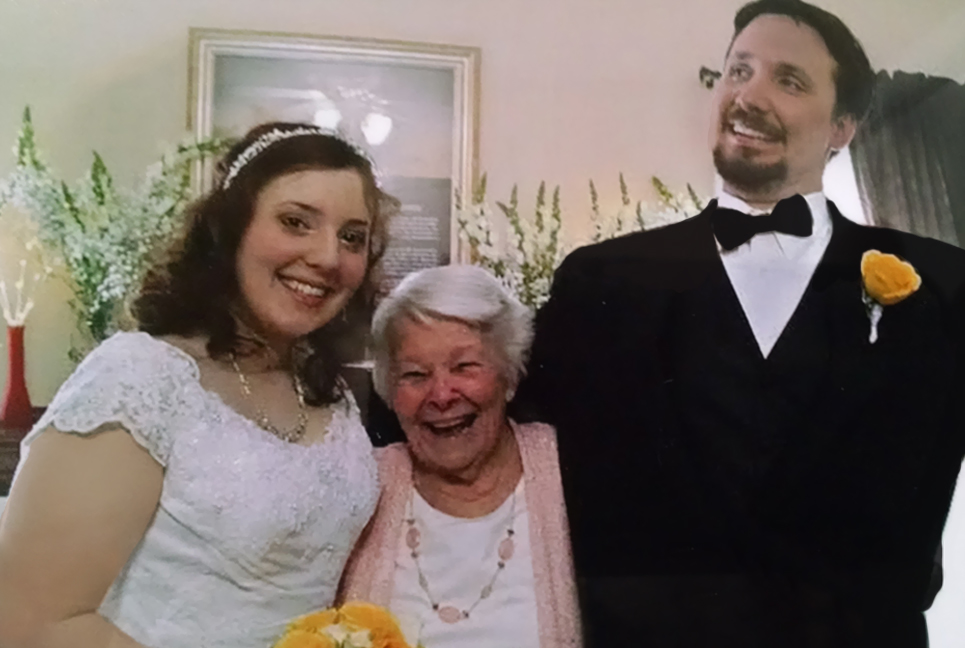 Family members gushed at how picture-perfect the event turned out to be – despite the mad-dash. The truth is, all that's needed to make a wedding special is love. Flowers, food, music certainly add to the ambiance, but pale in comparison to being surrounded by family and friends.