Puppy Kisses, Selfless Wishes.
The most natural response to being given a gift is to receive it, with thanks. But for Cathy Madsen, who has devoted most of her life to giving, receiving a gift proved very difficult to do.
When Crossroads Hospice & Palliative Care presented Cathy with a rare chance to choose any gift she wanted as part of its Gift of a Day program, she instead found a way to redirect it to others. Because …well, that's Cathy.
A passionate animal lover and fierce advocate, Cathy's perfect gift was to host a fundraiser that would benefit Friends of the Animal Shelter – a nonprofit organization Cathy founded in 2000. After a weeks-long effort by Crossroads, St. Joe's Animal Shelter and the local community, Cathy got her gift: The "Shake, Wag and Roll" Fundraiser.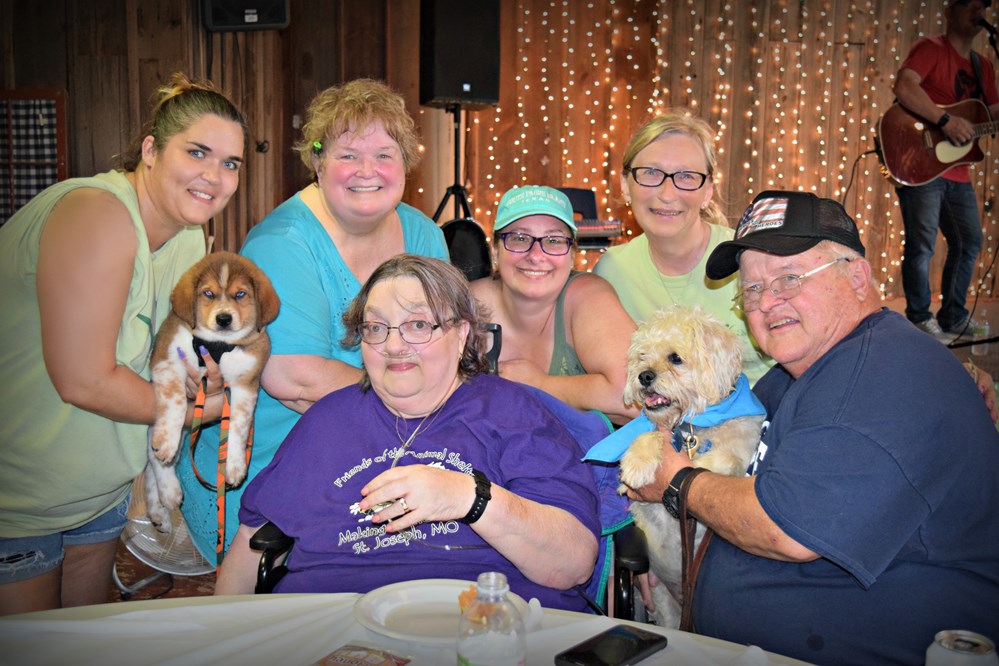 Nearly 300 attendees gathered at Ol' MacDonald's Farm in St. Joseph's, MO to support the animals. More than 50 local businesses and service providers set up booths to showcase their best and generously donated items for raffle. Good eats delighted both people and pets, plus country music artist Casey Brett kept everyone pawfectly entertained.
Best of all, the event raised over $7,000! Cathy was overwhelmed by the generosity of her community. Her giving nature, once more, brought her total joy and fulfillment. "I'm in awe," said Cathy's husband, Kenneth. "And, I'm grateful that Cathy was finally recognized for all of the selfless work she has done over the years. It makes me immensely proud."
Truth be told? The event wasn't completely altruistic. Cathy made a brief stop at the kissing booth where she received her favorite gift of all – a sweet, sloppy puppy kiss on the cheek. Good dog.