Welcome to the Evening News.
Once upon a time, local newscasters were trusted sources of unbiased news. They welcomed us home from work each evening and provided summaries of the day's events – even a laugh, too, attesting that the news wasn't always bad.
Crossroads Hospice & Palliative Care had the honor of caring for one of the most iconic and legendary local TV broadcasters – Mr. Glen Hanson.
From the early 1960s through the 1990s, Glen delivered the news with a smile and without prejudice. He cut his teeth in San Francisco, moving to Chicago as the director of WBKB-TV's early-evening news program where he earned a reputation for honest, factual reporting and high energy. By the time he went to Kansas City's Fox-4, he had won many journalism awards.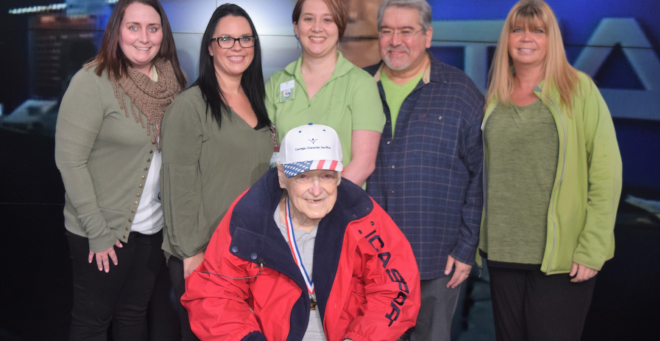 Glen started as the nightly news anchor at Fox-4, but became everyone's friend. He was an ever-present community activist and local celebrity, often approached on the street, in the store, at the gas station. Glen always stopped for a chat. For more than two decades, Glen greeted Kansas City from Studio 2-B, and earned the love and loyalty of discerning audiences.
To honor Glen, the Crossroads team brought him back to tour a newly remodeled Fox-4 studio and a walk down memory lane. He arrived to a roomful of admirers – past and present – who said "Welcome home, Glen." The lightbulb clicked and Glen's rapidly fading memory suddenly brightened.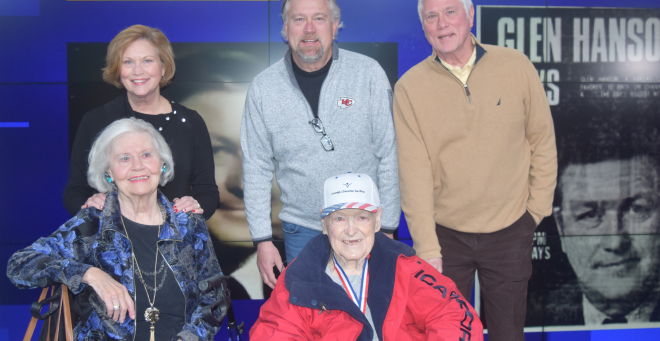 Glen's wife of 60 years never left his side and his three teary-eyed children listened to tales from colleagues who had come from all over to recognize him. "You're one of my all-time idols," said a current Fox-4 broadcaster. "He really was a Kansas City icon," said a producer. A heartfelt letter from his former co-anchor spoke volumes about the impact Glen made on the lives of many.
A montage video of old footage played in a loop on the large studio screen while Glen's former cameraman knelt down, grabbed Glen's hand, and spoke from the heart. Next, Crossroads honored Glen's courageous service as a fighter pilot during WWII and presented him with an honorary bronze star. Rightfully, Glen sat up straighter in that proud moment.
Glen ended the day with a last look at his past through the lens of a new studio, in a new time.