Phillies Gift of a Day Hits a Homerun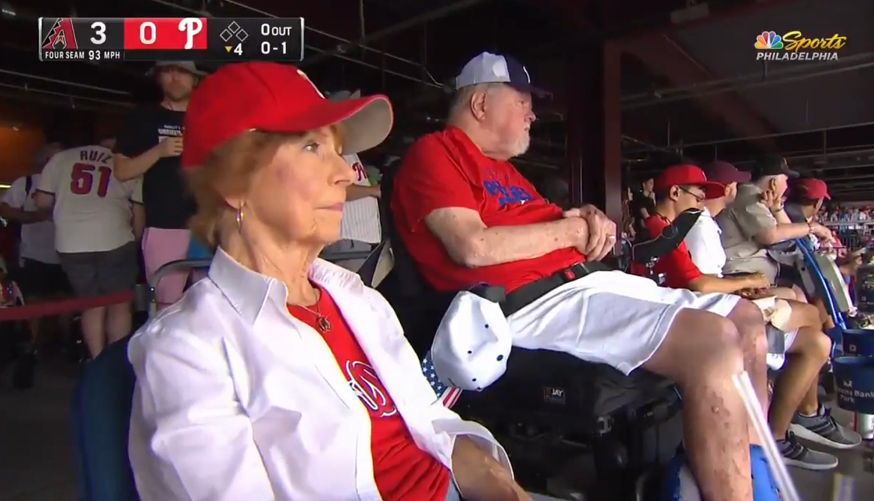 James Lane was born into a family of sports lovers. His cousin played for the Pittsburgh Steelers and the men in his family, tall across the board, gravitated to athletics. Though he played catcher at both La Salle College High School and Villanova University, his admiration for baseball—particularly his home team, the Philadelphia Phillies—began way before.
"Jim came from a very outdoorsy family and was always a big athlete," said his wife, Karen, "but he was first introduced to baseball in an unconventional way. His father was a physician, and he cared for two players for the Phillies, Del Ennis and Robin Roberts, when Jim was young."
Back then, the relationship between doctors and patients was different. Ennis and Roberts used to come to the house for dinner (particularly for the spaghetti Lane's mother would make), and Jim had a front row seat to the lives of these baseball greats.
"It was just an important time is life, and he spent it with heroes," said Karen.
If time spent with the professional ball players made Jim aspire to a career in baseball, there is one thing that it convinced him not to do: follow in his father's footsteps as a doctor.
"Jim tells a story about a time that Robin Roberts' son had an accident and came to the Lane house to be stitched up," said Karen. With no one else to assist him, Jim's dad deputized him to help with the stitching. The sight of the blood was too much for Jim to handle.
Through the years, multiple sclerosis destroyed Jim's ability to play baseball—but nothing could extinguish the love he has always had for the game. That's why, when Karen mentioned to the staff at Crossroads that Jim was to celebrate his 82nd birthday at the Phillies game, Anne Marie Healey stepped in to make the day extra special.
"We had taken Jim to the Phillies game the previous year, so I mentioned it to Anne Marie that we were going again—this time with our nephews, some friends, and our long-time caregiver, Vanessa," said Karen. "Crossroads had a connection, so I thought maybe they could send the Phillie Phanatic to our seats or something. I didn't expect too much."
What happened was better than Karen or Jim could have imagined. A Phillies staff member visited and had the whole section of Citizens Bank Park sing happy birthday to Jim. They showered him with confetti and gave him a Phillies hat to take home. After a time, a cameraman appeared next to Karen's seat, she assumed because they were stationed in the handicapped section and there was more room to shoot.
"The cameraman was sort of pointing the camera our way, but he didn't say a word. I had no idea what was going on," said Karen. But thousands of people tuning in at home soon learned that the camera operator was gathering footage of the couple to use while on-air personalities Tom McCarthy and John Kruk wished Jim a happy birthday from the booth.
You might think that would be the highlight of the trip—getting on-air birthday wishes from the Lanes' favorite Phillies commentators—but the best was yet to come.
"After all that, a man came by our section, extended a ball and said, 'this is from Mike Schmidt,'" said Karen, referencing the legendary Phillies third baseman. "It was autographed. Jim doesn't say much these days, but you could just see how overwhelmed with emotion he was. It was beyond anything we could have imagined. Right then and there, I ordered a case, and the ball is now displayed in our den."
Unfortunately, the Lanes saw the Phillies end a nine-game winning streak with a 13-1 loss to the Diamondbacks, but that didn't matter a bit.
"It was a phenomenal time. No matter what, we always find a way to make it fun. And nothing could compare to the time we had that day," said Karen.
Jim has been with Crossroads for around three months following a recommendation from a visiting nurse. Though Crossroads staff works in tandem with Vanessa, to whom Karen refers as their "adopted daughter," the support they have provided has been life-changing.
"They are an unbelievable help. It's been an excellent experience. Not only do they offer so many items free of charge—things we had been paying for before—but they provide phenomenal support," said Karen. "I take care of Jim at night and on the weekends, and it gets hard. Recently, Crossroads offered me an aide on a Saturday morning, and they said they might be able to make it a regular thing. I can't tell you how much that helps me."
But aside from the logistics of care, the Lanes have welcomed Crossroads into their lives as a blessing they never knew they needed.
"I have nothing but good things to say about Crossroads," said Karen. "The people are wonderful, considerate, and helpful. What else can I say? We just love them. And we'll never forget that day at the park."